Some time ago is located at Hotel Sari Pacific Jakarta, dozens of workers ' disability is present in the event a work Accident Assurance program Return to Work (RTW) by the BPJS Employment.
In fact, the situation often occurs incidents of accidents which resulted in employees experiencing limitations, but the mirisnya many companies deliberately fired the employees but is still in a State of working accident treatments experienced.
According to the Direktu Employment BPJS Krishna Sharif this kind of incident happening in the company that did not yet register as a registered company BPJS Employment. These events can be categorized as one of the heavyweight labor violations.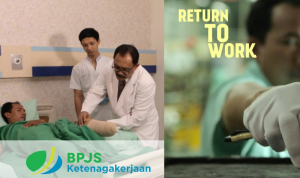 "This incident could have been prevented if the company follows the BPJS program employment and synergize program RTW," he explained on the sidelines Gathering Program JKK-RTW-themed back to work and Inspiring to realize the work productivity as well as The Welfare Of The Family.
It says, the Program is an additional benefit of RTW BPJS Employment that can be utilized by workers if such incident was on him. The program is a form of commitment between a company with BPJS Employment. The RTW, BPJS Employment as the guarantor parties throughout the risk of accidents.
Treatment is given without limitation fees and unlimited alias indefinitely until the participants healed. Participants that disability was accompanied by a case manager and a trained work according its newest capabilities. While the perushaaan party is committed to provide security for hiring back workers that disability due to work accidents.
"Sayanganya still many companies who haven't learned this RTW program. To that end we synergize with the stake holders to continue to menyosialisasikan this program, "said Krishna.
Meanwhile Deputy Director Employment Region DKI Jakarta BPJS Achmad Hafiz said until the first payment of a guarantee case JKK branch office region DKI Jakarta reached 70.9 billion from Rp 3,912 cases. In it occurs the disability function 34 cases, partial disability 43 cases, and death work accident as much as 160 cases.
"Until July 2018, case manager we handle as much mentoring of 71 cases of JKK-RTW and conduct cooperation with 605 partner service center work accident," cetusnya. Among the participants of the present sosialisai is puluhak PT Mandom disability worker.
Moreover, some time ago the Government via the newly issued Kemenaker peratuan Minister of the safety and Health of work no 5 year 2018.