Award safety and occupational health (K3) on the theme of K3 Awards 2018 back held by Ministry of Labor (Kemnaker) recently. Zero Accident categories into a thrilling kategor, for this category of Indosat Ooredoo won the award as one of the companies that have been successful implementing K3 in the work environment as well.
Indosat Ooredoo earlier also once won a similar award that is the Golden Flag year 2012 as the best company with the HSE management system and the Zero Accident. It is increasingly asserted the existence of Indosat in the implementation of K3.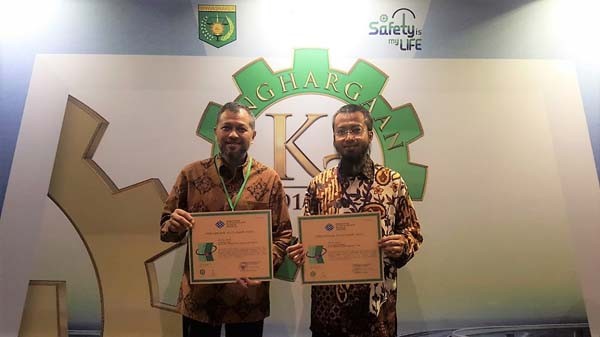 "With this award, Indosat Ooredoo remains committed to continue its efforts, namely making the culture of the K3 in every activity of the company's activity as a whole in order to improve the aspect of safety, quality and productivity of work the company, "said Andy R Herdanarto, Group Head of Facilities Management Services Indosat Ooredoo in Jakarta, Wednesday (15/8/2018).
Indosat Ooredoo has had policies and programs the implementation of occupational safety and health work as the implementation of the system of safety and occupational health (17 countries) in an enterprise environment. For process supervision and any updates done regularly and checked periodically by involving employees and all elements of the company involved. To keep the independiensi supervision and checking of also involving parties from outside professional K3.
In addition to the certification of 17 countries as the standard management of K3, Indosat Ooredoo standard OHSAS 18001 also have ISO 14001 certification and as the field of K3 and the environment. Both are standards that have been recognized by the international certification body (QUAY Audit UK Limited).
See this entry is not new if Indosat Ooredoo awarded the occupational health and Safety (Hse) to see how his company indeed concentrated in maintaining this policy. Indosat also understand if it is dicederai then the name of the company that will be affected by the outbreak and it is not good for business.
Some time ago the Minister of employment, m. Hanif Dhakiri, has published a regulation of the Minister of Employment (Permenaker) RI Number 5 year 2018 on Work safety and health working environment. The publication of this Permenaker to realize the work environment that is safe, healthy, and convenient as well as prevent accidents and occupational diseases.
Candy Number Employment 5 year 2018 is at once a previous regulations revoke namely Candy Labour No. 7 in 1964 about the conditions of health, Hygiene And Lighting in the workplace and the regulation of the Minister of manpower and transmigration No. 13 years 2011 about the value threshold of physical and chemical Factors in the workplace.